City hosts "Meet & Greet" for new Afghan Community Navigator
City hosts "Meet & Greet" for new Afghan Community Navigator
Published:

July 14, 2022

Category:

General

Contact:

Leyda M Becker - 270-393-3766

Location:

Bowling Green, KY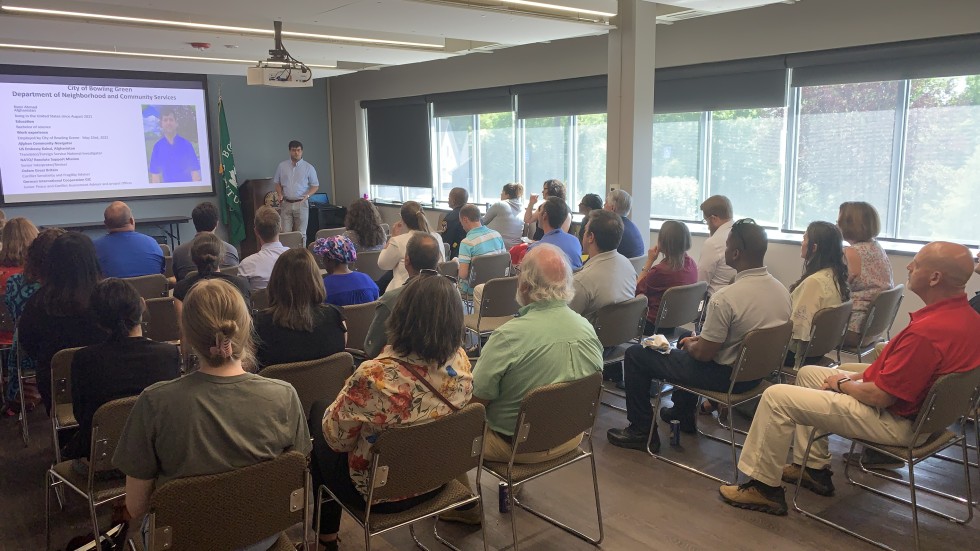 The International Communities Liaison Division in the Neighborhood and Community Services Department hosted a "Meet & Greet" for their newly hired Afghan Community Navigator on Wednesday, April 13, 2022.
The event was geared to City employees and other Community partners who actively work with refugees and immigrants and featured a cultural presentation on Afghanistan and its people. Mr. Nasir Ahmad, was hired in late May 2022 to serve as an Afghan Community Navigator, a newly created temporary position made possible by a $150,000 grant received from the Open Society Foundation to support the City's efforts to meet the needs of Afghan new arrivals who have been resettled in Bowling Green.
Mr. Ahmad was born and raised in a small city called Taluqan, in northern Afghanistan, and he is one of 11 children. He holds a Bachelor's Degree in Agriculture from Takhar University. In early 2015, Mr. Ahmad was offered a position with the NATO Led Resolute Support Mission in Headquarters Resolute Support Mission Kabul, where he served as a Senior Interpreter and Reviser for six years. He was then offered a highly competitive position with the United States Embassy in Kabul, as a Senior Interpreter/Translator/FSNI. Following the abrupt change of regime and collapse of previous Afghan government in August 2021, for their safety the U.S. government evacuated him and his wife to the United States.
Immediately after arriving to the U.S., they were transferred to Fort Dix McGuire, a military camp in New Jersey were they spent about four months prior to being resettled in Bowling Green in December 2021. Collectively, Mr. Ahmad served both Afghanistan and United States working for international organizations and U.S. Military and Diplomatic missions as an Interpreter/Reviser, Peace and Conflict Assessment Adviser, Conflict Sensitivity and Fragility Adviser and Project Assistant for the past 10 years. After his appointment to this position Mr. Ahmad noted: "I am truly thankful for the United States government and its people for their generous support and faithfulness in assisting the people of Afghanistan and saving our lives after the collapse of former Afghan government."
This 12-month temporary position will function as an intensive support specialist role to connect Afghan newcomers to municipal services and other community resources and to support primarily in connecting Afghans to English Language and Driver's License education and local labor force opportunities. There are currently an estimated 65,000 Afghan new arrivals who have resettled in host communities across the country, with Bowling Green receiving over 400 Afghans to date. The funds, supplied by the Open Society Foundations, are meant to augment limited federal resources to help those communities that are particularly invested in welcoming Afghans.
The position is housed under the International Communities Liaison Division in the Department of Neighborhood and Community Services. "While Bowling Green has resettled refugees for over four decades, the City of Bowling Green has never received federal funding to assist in the integration of newcomers to our community, this grant funding will bolster our ongoing inclusion and integration efforts geared towards our newest neighbors," said Leyda Becker, the City's International Communities Liaison.
"Local government leaders are playing a critical role in welcoming Afghans and helping them to settle into new communities," said Laleh Ispahani, Co-Director, Open Society-U.S. "We are proud to stand shoulder to shoulder with them in welcoming these newcomers. In making this grant and others like it we recognize that partnerships between local government and community groups are essential in building inclusive communities, and contributing to a growing welcoming movement across the country."
The City of Bowling Green has also joined a group with other government leaders to share best practices. The group will be facilitated by Welcoming America, which works to support communities building a welcoming society where every person, including immigrants, can fully contribute and shape our shared prosperity. The American Immigration Council, which works to create a more fair and just immigration system, will collaborate on this effort.
For more information on this new program contact Leyda Becker, International Communities Liaison at (270) 393-3766 or leyda.becker@bgky.org or Nasir Ahmad, Afghan Community Navigator at nasir.ahmad@bgky.org or at (270) 393-3332.