Fountain Row entertainment destination center officially launches July 15
Fountain Row entertainment destination center officially launches July 15
Published:

July 13, 2022

Category:

Downtown Development Division

Contact:

Telia Butler - 270-393-3617

Location:

Bowling Green, KY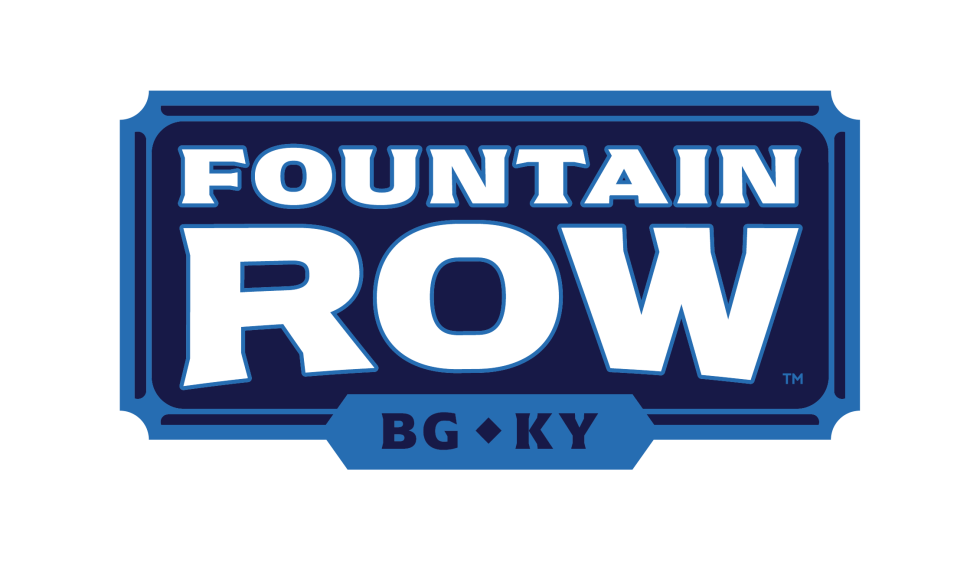 Launched by the City on July 15, Fountain Row is the name of the Entertainment Destination Center in Downtown BGKY. In Kentucky, a City may hold an "Entertainment Destination Center" license allowing carrying of alcohol in public spaces in approved cups within set boundaries and times.
Effective July 15, 2022: Fountain Row, an Entertainment Destination Center in Downtown BGKY, is officially active.
Fountain Row provides a boost to local hospitality and tourism businesses by allowing customers to purchase and take out alcoholic drinks in designated to-go cups from participating licensed businesses within its boundaries during City-set hours. Fountain Row encourages visitors and locals to explore more of Downtown BGKY's historic streets and parks, window shop, and discover new experiences at outdoor events.
"This is an exciting time for Bowling Green. We've heard from many in our community and we've worked with our community to get to this day. We didn't do this the fast way. We didn't do this the easiest way. We did this the right way, by listening to our community," said Mayor Todd Alcott. "We look forward to seeing how our community continues to grow in positives ways that will enhance the quality of life for all citizens."
Fountain Row further engages with retailers, venues, restaurants/bars, residents, visitors, special events, and the community overall—creatively offering new amenities and a building a better workforce destination. Downtown BGKY is a vibrant cultural destination, the heart of Corvette's historic hometown, and the hub of Kentucky Cave Country.
"I have been looking forward to this day for many years. The arts and entertainment district now formed will serve to enhance and further economic development in our beautiful, historic downtown Bowling Green," said Commissioner Sue Parrigin. "I look forward to seeing many more events that bring our citizens, visitors, and downtown merchants together in a festive atmosphere."
Operating Hours: Fountain Row's to-go service hours are Fridays and Saturdays, 11am-9pm.
Rules:
-All participating businesses are designated with distinct Fountain Row window clings and posted rules.
-All to-go alcoholic drinks must be purchased from a participating business within the Fountain Row boundary and served in the approved clear plastic disposable 16 oz. labeled Fountain Row cup.
-Cups are one-time use and NO REFILLS are allowed.
-Cups must be carried public spaces and disposed of before entering any business or exiting the Fountain Row boundary.
-Scan the cup's QR code for a full Fountain Row map and rules.
Boundary: Fountain Row covers the most heavily foot-trafficked areas of Downtown BGKY: Circus Square/SKyPAC/BG Ballpark blocks thru Heritage Trail to Fountain Square to Mellow Mushroom. Signs at the boundaries indicate entry and exits. Welcome/informational signs within it indicate operations and ways to find further details. BOOKMARK THE INTERACTIVE MAP HERE.
Want to know Fountain Row's history and launch timeline? Find it here.
Why "Fountain Row" as the name? Easy. Water features are the pillars of this district: Fountain Square's fountain and goddess statues warm the heart of the City, Circus Square's fountain brings playtime for families, the BG Ballpark's splash pad is the kids' favorite part of the game experience, and soon another Fountain Row venue will house a water feature. Plus--it's a fun marketing pun--anything with a flowing nature can be associated with pouring drinks!
"I am excited to celebrate the launch of the Fountain Row EDC and highlight downtown Bowling Green as a thriving regional destination for food, fun, and entertainment. I am so thankful for the city staff, downtown businesses and residents who have worked so hard to make Fountain Row a success," said Commissioner Dana Beasley-Brown. "I encourage everyone to come downtown with their friends and family to enjoy the growing list of incredible food and entertainment options available in the Fountain Row area and beyond."
"The EDC is going to be something really good for Bowling Green. It's going to create new avenues of commerce and one day it's going to lead to the Riverfront, and that's going to be something special for our community," said Commissioner Carlos Bailey.
Fountain Row FAQs:
What is an Entertainment Destination Center? In Kentucky, since 2016, municipalities can establish an Entertainment Destination Center that allows patrons at participating restaurants and bars to leave the premise with an alcoholic beverage in a specially-marked cup. A municipality must apply for and annually renew its Entertainment Destination Center license, just like any other ABC license.
Where/When can I have alcoholic beverages in Downtown BGKY? Alcoholic beverages purchased from a business in Fountain Row must be consumed and carried within its public space boundaries. Patrons cannot take their Fountain Row beverage into any other business or outside the boundary. Alcoholic beverages are only allowed on Fountain Row public property on Fridays and Saturdays, 11am-9pm.
Can I purchase a Fountain Row cup and put my own drink in it to walk around Downtown BGKY during a special event? No, only drinks purchased from a participating business in Fountain Row are allowed by state law. No cans, glass bottles, or outside drinks are permitted with the boundaries. Anyone with alcohol on public property not purchased from a participating business during permitted hours or during a designated special event can be cited and/or arrested.
Can I bring my Fountain Row cup back to another event? No. Fountain Row cups are permitted for one-time use (no refills) when leaving a downtown business to walk to another location within the area.
What are the repercussions for those exiting the boundaries with alcohol? Should patrons leave the boundary, they can be cited and/or arrested.
Are other Kentucky cities creating an Entertainment Destination Center like Fountain Row? In August of 2016, the State of Kentucky adopted legislation allowing municipalities to create local Entertainment Destination Centers in their tourism and convention districts. To date, over a dozen municipalities have passed local ordinances to create these, including Paducah, Danville, Owensboro, Louisville, Lexington, Morehead, Covington, Maysville, Midway, Bellevue, Somerset, Corbin, and the CVG Airport.
"I hope the citizens enjoy this new entertainment destination in Bowling Green and that more people take advantage of our beautiful downtown," said Commissioner Melinda Hill.
For full Fountain Row details, plus a Downtown BGKY parking map, visit bgky.org/fountainrow.
Follow @downtownbgky on Facebook, Instagram, and Twitter for updates and more news.
Subscribe to our Downtown BGKY E-News here.
Questions? Contact Telia Butler, Downtown Development Coordinator, telia.butler@bgky.org or 270-393-3617.